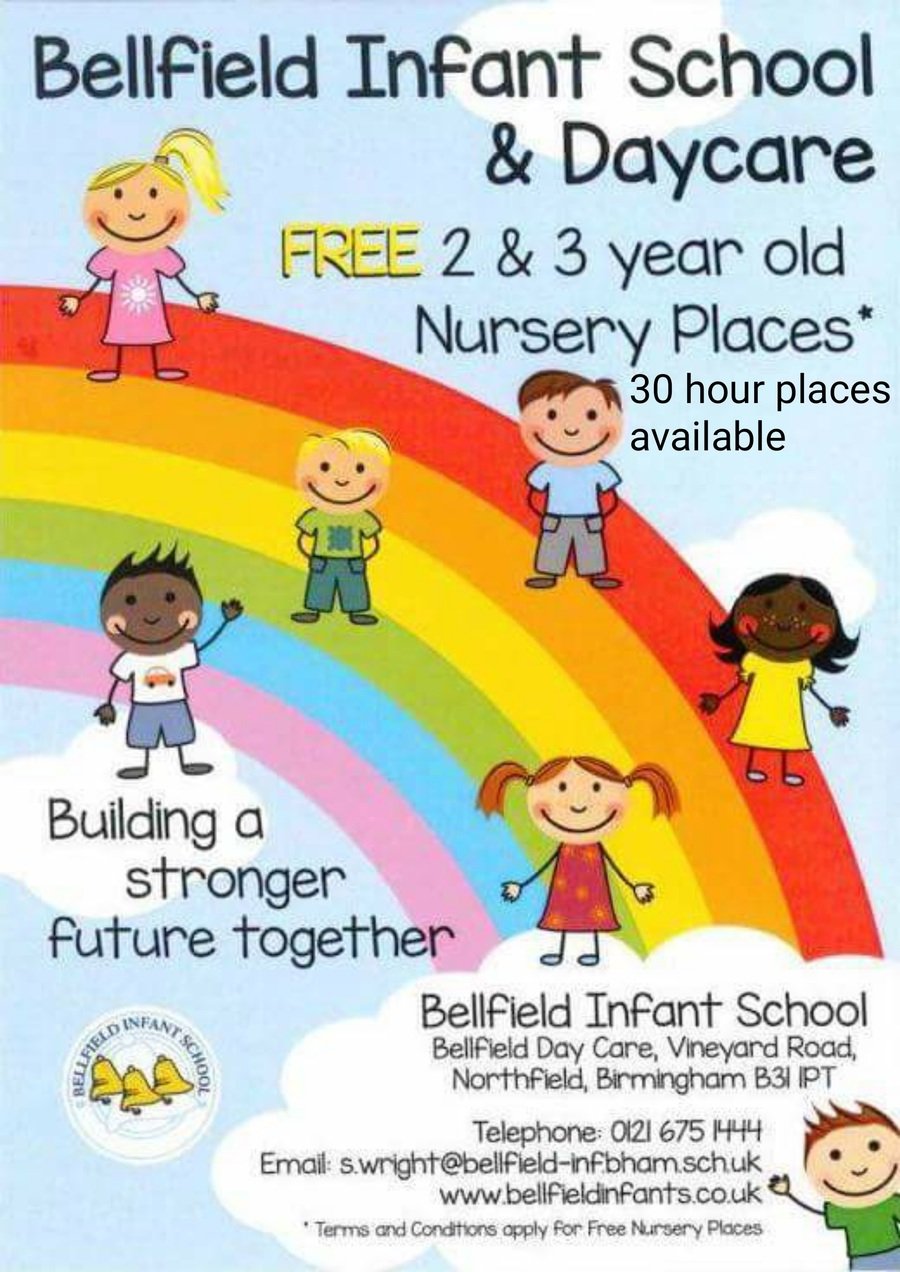 We offer quality child care provision for 48 weeks of the year, from 7.40am to 6.00pm. We are part of Bellfield Infant School and are situated within the school grounds in our own independent unit.
We offer 2* and 3 year old free 15 hour funded places and also 30* hour funded places. *subject to Government funding criteria.
Please visit https://www.birmingham.gov.uk/2yearolds to check eligibility.
Our day care facility is based in one large room divided into two separate areas and caters for children from the age of 12 weeks until they are ready for Reception.
For more information please call Sally Wright or Victoria Emery – 0121 675 1444
Our day care is a fun, friendly exciting environment for children to learn, play and develop. When your child attends our day care every day will begin with a smile from a friendly face. You and your child will get to know your key worker which enables us all to share valuable information, develop a partnership and work towards ensuring your child reaches their full potential. We believe that parents/carers are a child's first educator and therefore value a close working relationship with all parents.
Our day care team is committed to providing the very best care. They are well trained and qualified and all necessary safeguarding procedures have been completed. Staff are dedicated, enthusiastic and share a love of children with a desire to see them grow and develop.
All children in day care experience a safe, secure and stimulating environment which offers activities to promote positive images of all cultures, in a non stereotypical way, through play equipments, displays, books and role play.
We encourage healthy eating at main meals and snack times. Physical exercise is fully promoted and encouraged with access to 2 direct well resourced outdoor areas and access to the main school hall for extra fun and games.
We also operate strict policies relating to child safety and safer recruitment. Copies of all our policies are available for parents if required.
At our last inspection Ofsted reported:
"In the day care unit children are well supported in their learning and development. Staff fully embrace the values of keeping children happy, safe and secure and the detailed attention paid to children's welfare is Outstanding. There is effective monitoring and review of provision leading to sharing of good practice in ensuring all children reach their full potential. Staff make sure that all children including those with learning difficulties and or disabilities are fully included in all activities. Outstanding partnership with parents and other agencies contributes effectively to children's learning."
For further information about our Child Care facilities, or to come and have a look around please contact Sally Wright or Victoria Emery on 0121 675 1444.